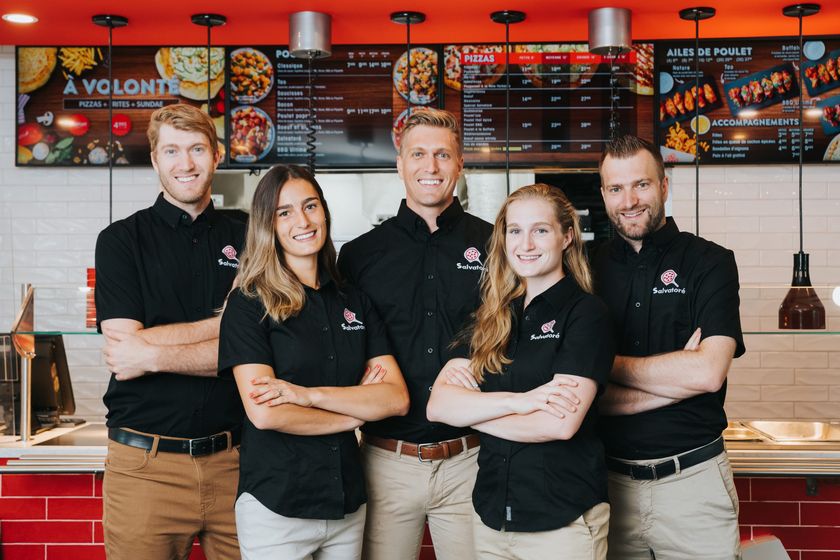 Pizza Salvatore "is in full searching mode" in Greater Sudbury, the Quebec-based pizzeria chain has announced, and plans to open a new restaurant in the city in the next few months.
The new pizzeria will create around 50 jobs in the area, the company said in a press release.
"The whole family cannot wait to find a great location in the beautiful city of Greater Sudbury, from which we could deliver our delicious pizzas and our decadent poutines,'' said Elisabeth Abbatiello, vice-president of communications and outreach at Pizza Salvatore and co-owner with her sister and three brothers.
Pizza Salvatore is looking for a location of approximately 1,500 square feet, with good visibility. The siblings, who currently operate 37 restaurants in the province, are also opened to buy vacant land or commercial property for sale.
"We are expanding in numerous ways," Abbatiello said. "We can lease commercial space, buy vacant land to build a restaurant or acquire a commercial building that our team would renovate. We want to establish ourselves in the city for a long period and that is why we will take the time to find a location that is perfectly suited to meet the needs of our operations. We are fortunate to have a very successful construction team. Having built 15 restaurants in the last year, our construction team always relies on local entrepreneurs to help them deliver a functional restaurant on time."
The family-owned business has more than doubled its number of restaurants in the last year. After experiencing an unprecedented increase in their sales, the third generation activated its expansion mode.
Since April 2021, Pizza Salvatore has opened a new restaurant every 14 days.
"The whole family feels extremely privileged to have such a successful and motivated team by our side," Abbatiello said. "It is thanks to this team that we can open a restaurant every 14 days and generate excellent results in each new location. We are very grateful to experience tremendous growth in our sales in each of our pizzerias during this difficult time for the foodservice industry. "
Guillaume Abbatiello passed the torch of Pizza Salvatore to the third generation in September 2018. Sole owner of the company at the time, he sold the entire restaurant chain to his five children, who had spent time in the pizzeria kitchens since their early teens and wanted to get involved to ensure the stability and the growth of the business.
"We grew up watching our parents and grandparents dedicating themselves to the family business," Elisabeth Abbatiello added. "It was natural and important for us to continue in the same direction, in order to be able to offer the same opportunity to our fourth generation."
Founded in 1964 by Salvatore Abbatiello, Pizza Salvatore has been recognized as the No. 1 pizzeria for the delivery of pizzas and poutines within the greater Quebec City area. The company operates 37 pizzerias and has around 1,500 employees.
The chain is best known for its cheese-stuffed pizza crusts and poutines made with fresh cheese curds.
For more information, visit www.pizzasalvatore.com.