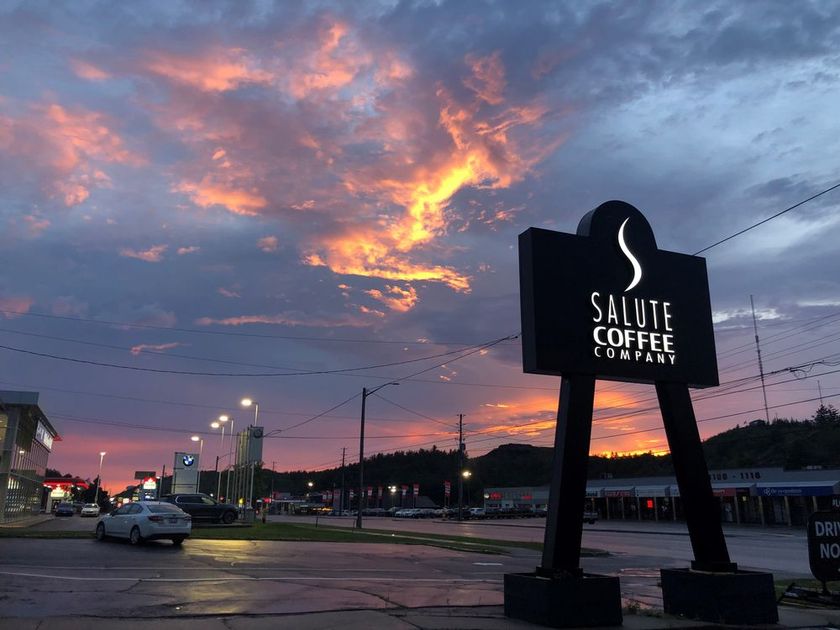 Owners Tania Renelli and Stephanie Grabish take coffee seriously. 
The two women own the Salute Coffee Company, which currently has two locations in Sudbury — their flagship store at 2195 Armstrong St., where Sudburians first got familiar with their lattes, and 1137 The Kingsway, in the building formerly occupied by Deluxe. 
"We are Sudbury's premium, locally-owned coffee shops," Renelli says. "We are committed to serving the very best quality food and beverages with a focus on outstanding customer service. We offer dine-in, take-out, drive-thru and patio seating at both locations."
The south end location is open weekdays from 6:30 a.m. to 6 p.m. and from 7:30 a.m. to 5 p.m. on the weekend. The Kingsway locale is open weekdays from 6:30 a.m. to 9 p.m., Saturdays from 7:30 a.m. to 9 p.m. and Sundays from 7:30 a.m. to 7 p.m.
Q: What motivates and inspires you?
A: We're motivated by our customers, who love and appreciate what we do. Our customers are generous folks who understand that our products are high quality. We're inspired by exciting new coffees from different parts of the world and the stories behind those coffees. Pilot Coffee Roasters establishes direct relationships with farmers and works closely with them to ensure a great product and a great rate of pay for all involved. Their stories are always inspiring and we feel it's important to know where our coffee comes from.
Q: Describe your restaurant's menu?
A: Premium beverages with thousands of options – iced, blended, hot, sugar-free, caffeine-free, eight different milk options, housemade syrups, smoothies, frappes, lemonade, etc.
Our baking is made from scratch and baked fresh daily. We have options for everyone, including gluten-free, dairy-free, vegan, etc. Fresh scones, cinnamon buns, muffins, cookies, protein balls – the list goes on.
Breakfast and lunch options include smoked salmon, Montreal bagels, housemade granola, smoothie bowls, our best-selling egg sandwich with crispy baked prosciutto, sandwiches, meatballs made with extra lean beef and fresh parmesan, salads, wraps and fresh-made daily soup.
Q: What might diners not know about this restaurant?
A: Attention to detail and focus on local are what sets us apart from other coffee shops. Our food is made from scratch daily. Our eggs are free range and from a local farm. We use pure maple syrup from a local sugar bush in our baking because it tastes better and is better for you than processed sugars. Many of our syrups are made in-house using real ingredients rather than artificial flavours. We're committed to real food and you can taste the difference.
Q: What is your favourite local product and how do you use it?
A: My current favourite local product is our custom-made pottery – it's beautiful and makes a great gift, and there's something special about drinking your morning beverage from a handmade vessel.
Q: If there is one important piece of advice you might have for home bakers, what might that be?
A: Take your time. Baking isn't meant to be rushed. It's a labour of love and meant to be enjoyed. It can be therapeutic when you slow down, use real ingredients and just enjoy the process.
As for a favourite recipe, I can't give away any of our secrets so I will share a favourite recipe I make at home all the time.
Kale salad 
1 bunch adult kale (not baby); about 4 cups
De-stem it, wash it and dry it. Then chop it up into fine ribbons/slices. Kale is much tougher than lettuce so you want nice thin strips.  
Then add:
1 full or 3 mini cucumbers

 

1/3 cup raw unsalted almonds, chopped
1/2 cup parmesan cheese, grated

 
Dressing: In a small bowl combine the following: 
1 clove garlic
1/4 cup olive oil
1/4 cup white wine vinegar
1/4 tsp. salt (this amount will depend on how big the bunch of kale was)
1/4 tsp. pepper

 
Let the dressing hang out for at least five minutes in a small bowl. This helps infuse the dressing with garlic.
Add the dressing to the salad at least five minutes before serving; even 30 minutes is OK. The kale is strong so the dressing will not wilt it.
Nickel and Dining is a regular feature in The Sudbury Star. If you want to feature your restaurant, eatery, or bakery, send an email to dmacdonald@postmedia.com.
sud.editorial@sunmedia.ca
Twitter: @SudburyStar