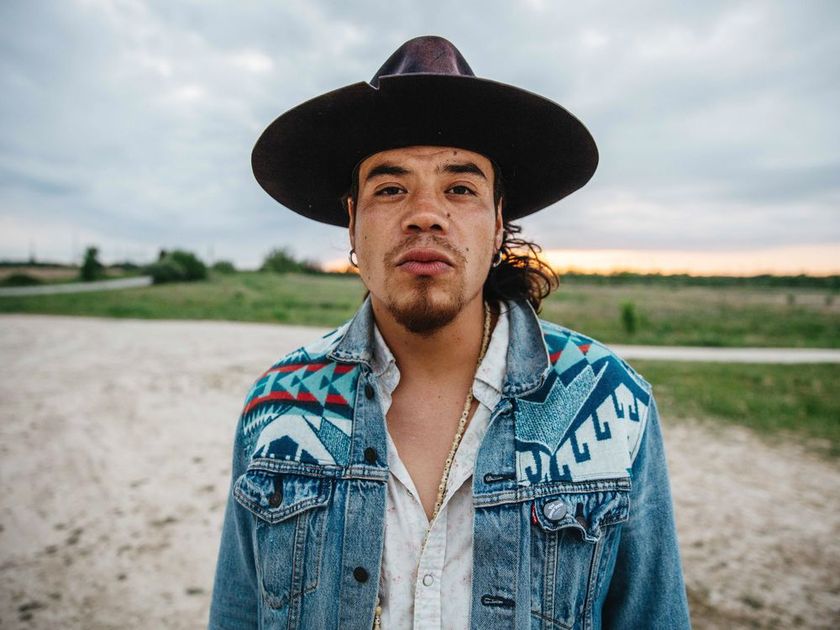 Logan Staats says he used to feel that his music and activism were two separate entities.
"Now, I'm realizing they are the same thing," the Six Nations of the Grand River singer-songwriter observes. "My activism is embodied in everything that I play, every chord and note I play."
That fusion is evident in his new single, Deadman.
Dig up my bones
Carry my body home
And I'll buy back my soul
With the gold that I'm owed
Staats says people have known for a long time about bodies buried on the grounds of former residential schools across the country.
"Now people are finally realizing that this was true, and are finally paying attention to some of the atrocities that have been inflicted on my people."
Staats was the winner of the inaugural season of Bell Media's The Launch, leading him to Nashville and Los Angeles.
His single, The Lucky Ones, won an Indigenous Music Award for Best Radio Single in 2019, and went to No. 1 on Canadian music charts.
"Coming from a small community, I started to suffer with different facets of social anxiety, and I think that was deeply rooted not only in the television show, but a lot of inter-generational trauma."
Cause I've been a dead man
Just walking away
Being a dead man refers to the displacement of the songwriter's community.
"I didn't go to school on the rez," says Staats.
"I lived in Brantford. I was raised in town.," he says.
"I wasn't raised with my culture, so I really felt like I didn't know where I belonged. I didn't fit in Brantford because I was a native kid, but I also didn't fit in at Six Nations because I felt like an outsider."
He says that not having culture as part of his life led him to drugs, depression and mental-health issues.
"Coming off TV, I had a lot of problems with different vices in the music industry. I ended up in the MH and then in rehab." he says.
In the song, when he sings "'I've been a dead man walking away," Staats said it is "because I didn't feel alive or in touch with myself, or my spirit."
Staats wrote the base for Deadman while sitting in recovery.
"It was an important part of my healing journey," he said. "As tough as The Launch was, I'm glad that it happened. I was able to find a little bit of collective healing."
And give me back my love
And I think she's had enough
And so have I
"When I sing, 'Give me back my love,' I'm speaking about my culture, my pride, the love for myself," he said.
The song's video includes scenes of the former Mohawk Institute residential school in Brantford, graves at Mohawk Chapel, the Landback Lane occupation site in Caledonia and a longhouse at Kanata Village in Brantford interspersed with imagery of the Grand River.
"I wanted to take the listener on a journey with me after the residential school," Staats says. "But also to show the slow process of reclamation, show me thriving in my culture (and) on the frontline reconnecting."
He says that being active with land defence and the Mohawk Warrior Society have been good ways to reclaim his culture.
"I'm a generational survivor of a residential school," Staats says. "That's deeply ingrained in everything I do, from my music to my land defense. That slow process of reclamation, for me, is so important and integral to my survival."
The artist recently signed with Red Music Rising, an Indigenous owned and operated label that launched in August 2020. He says he got more freedom to write his record.
"I have a whole album in the can, a 13-song record," says Staats, adding the release of the album, A Light in the Attic, is on hold due to the pandemic.
"We'll keep releasing singles every two months to try to prolong the initial launch of the album until I can tour again," he notes. "I feel like I thrive in a live environment. It's tough to tour this record online and playing those online shows. There's a missing connection."
Meantime, Staats has returned to the Wet'suwet'en First Nation in B.C., where he was arrested last November while standing shoulder-to-shoulder with protesters opposed to the construction of a pipeline.
"It's something I'm so completely passionate about and I can't stop myself from getting out there and helping however I can."
bethompson@postmedia.com