Nickel and Dining: Flavour and culture inspires Wander Food and Wine  
Stephanie Piche opens lounge in downtown Sudbury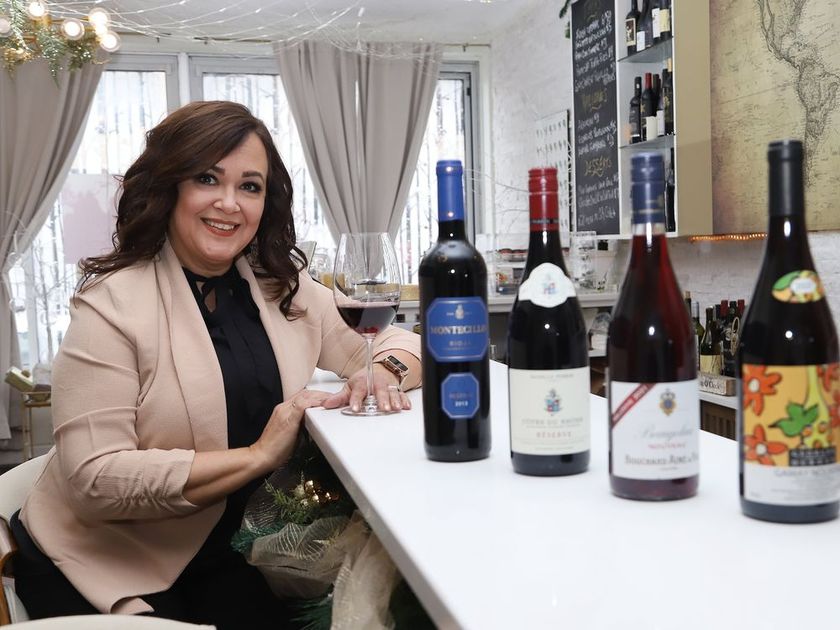 Wander Food and Wine is a chic, globally-inspired lounge where guests can learn about other cultures and countries through food and wine. Specializing in international tapas, small plates and an ever-changing wine list, Wander was designed to become a favourite escape.
After many years of travel to learn and taste the wine and food of more than 35 countries, owner Stephanie Piche dreamed of the day that she could bring the atmosphere, culture and experiences back to her hometown.
"I knew our city was missing out on something travel-themed and unique, so I made notes after every trip, every plane ride, every Michelin-starred meal and every time I left a hotel barstool after a chat with the bartender," she says. "I designed Wander Food and Wine to look and feel like somewhere else, but with the comfort of simple plates, recognizable ingredients and upscale service."
Wander, 112 Durham St., is open Tuesday for wine pairing classes; Wednesday and Thursday from 4-9 p.m.; and Friday and Saturday from 11:30 a.m. to 2:30 p.m., and from 4-10 p.m. There is no takeout. Wander is dine-in only. For more information, go to wanderfoodandwine.ca, call 705-586-3386 or email dine@wanderfoodandwine.ca.
 Q: What motivates and inspires you?
A: Flavour and culture inspire me. I love tasting something new that has a story to go along with it. The reason I love food and wine pairing is because it has been around for centuries and every region in the world produces and creates something different and delicious.
Q: Describe your restaurant's menu?
A: We specialize in wines by the glass and have usually 30 or more wines available to choose from. They come in three sizes to encourage guests to sample more than one wine per visit.
We also offer an ever-changing, extensive and eclectic bottle list, wine-based cocktails, international beer, cider and some non-alcoholic options.
Our menu changes almost as often and spans the globe with dishes such as gambas al ajillo (shrimp with garlic) from Spain; ropa vieja with tortillas from Cuba; and shrimp and sausage gumbo from New Orleans.
Although Wander is travel-themed, we also love to showcase the wine destinations within our own provincial or national borders. Generally, one-third of our wine portfolio is local.
Q: What might diners not know about this establishment?
A:  I designed every little detail – from the wallpaper to the bathrooms to the mid-century modern furniture to the gold swivel hooks installed along the front of the bar. Every inch of Wander is what I always dreamed it could be.
Q: What is your favourite local product and how do you use it?
A: One of my favourite Northern Ontario products is Le Kapuskasing cheese by Fromagerie Kapuskoise. If I pour myself a glass of Alsatian Riesling or a rare Vin Jaune and then close my eyes, I would swear I was in France.
Q: If there is one important piece of advice you might have for home cooks, what might that be?
A: Keep things simple. Select the best quality ingredients and prepare them simply. There doesn't need to be so many different flavours on the plate.
Favourite recipe:
Rustic French tarts
Serves: 4
4 slices of bacon
1 ½ tbsp. olive oil
1 medium onion, thinly sliced
Salt and freshly ground pepper
1 package pre-rolled puff pastry
¼ lb. fromage frais or ricotta
1. In a medium skillet, cook the bacon until crisp, about 5 minutes; transfer to paper towels. Tear the bacon into pieces.
2. Preheat the oven to 375 degrees.
3. Add the oil to the skillet and sauté the onion, cook over medium-low heat, stirring frequently, until softened and browned, about 15 minutes. Remove from the heat and set aside.
4. Line a baking sheet with parchment paper.
5. Cut 1 roll of puff pastry into four rectangles. Transfer them to the prepared baking sheet and prick them all over with a fork.
6. Bake the pastries in the center of the oven for about eight minutes, until puffed and lightly golden. Using the back of a fork, deflate the rounds and bake for about four minutes longer, until the pastry is just set.
7. Top the pastries with the cheese, onion and bacon pieces. Bake for another 8-10 minutes, until the cheese is starting to bubble and the pastry edges are golden brown.
8. Transfer the tarts to plates and serve warm.
Nickel and Dining is a regular feature in The Sudbury Star. If you want to feature your restaurant, eatery, or bakery, send an email to dmacdonald@postmedia.com.
sud.editorial@sunmedia.ca
Twitter: @SudburyStar