Nickel and Dining: Aiming to put Sudbury on the culinary map (update)
Deke Zaher pushes boundaries at Zaher's Test Kitchen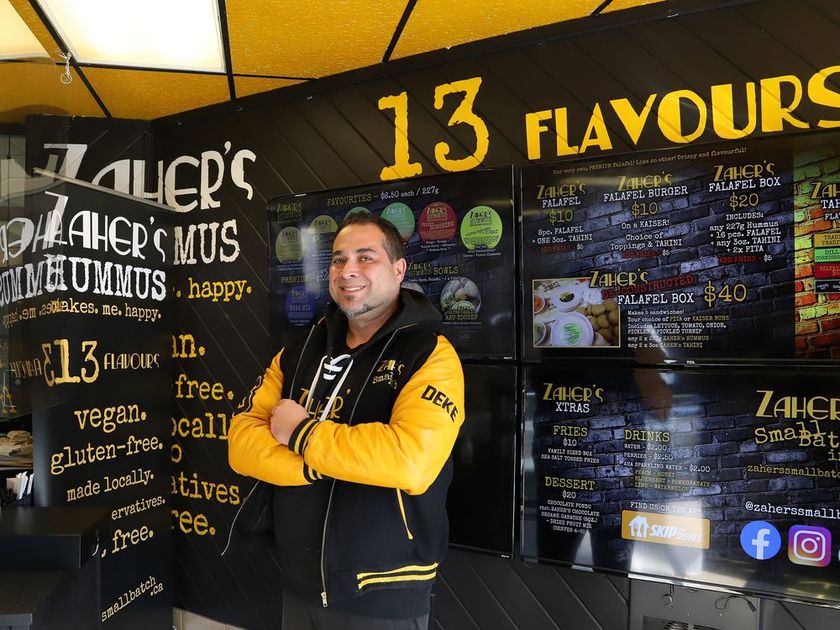 Update: Zaher's Test Kitchen will no longer be operating out of Peddler's Pub, but will instead be focusing on the opening of Zaher's Red Claw: Boil House. This location will be at 12 Elgin St., opening mid-December 2021, while Zaher's Small Batch is moving to a new location.
. . . .
Chef Deke Zaher founded Zaher's Test Kitchen in 2020 to pursue the heightened dreams of his culinary journey in a formal fashion. A Sudbury-based Palestininian-Canadian, Zaher has a large appetite for transferring classic techniques and transposing them into Mediterranean fusion and haute cuisine gastronomy. He maintains a focus on the art of plating and presentation to enhance his drool-worthy dishes.
Zaher experiments with unique ingredients, hybrid flavours, colour contrasts and different techniques. In 2021, he was signed to an international magazine platform (iinta.ca) as a monthly columnist and he is currently awaiting the release of his new show, Zaher's Test Kitchen, which is currently in production (he revealed his first guest will be Penny Ford from SNAP). The show will be available through iinta.ca and on YouTube.
His ultimate goal is to achieve a Michelin Star status and help put Sudbury on the culinary map.
For more information on the test kitchen, go to zaherstestkitchen.com; email zaherstestkitchen@gmail.com; or check out @ZahersTestKitchen on Facebook and Instagram.
Q: What motivates and inspires you?
A: Impossibility. Defying my own expectations. I am forever inspired, but never (ever) satisfied. It's always about seeing what's next and trying to reach that next level. I constantly try to defy and challenge myself to evolve. My dishes aren't often repeated as I forever want to adventure with new concepts, visuals, flavours and textures. There's so much out there to explore and create in my own lifetime and we all know how short life is. I intend on building the best portfolio I can to one day leave behind so I could say, "There, that's who Chef Deke Zaher was."
Q: Describe your restaurant's menu.
A: My vision for this menu is focused into three stages: Mediterranean fusion, haute cuisine and elevated pub fare. Each of these stages represents a celebration of world-class food with an artistic twist and the intention to bring something new to the culinary universe.
The first event was Nov. 6 and was entitled ShOcK ROCK: Haute Cuisine, which was sure to raise some eyebrows and leave attendees with a pleasant grin. This menu was top secret until the presentation of each dish is displayed. Tickets benefitted a local cause, Freed From Need. There was an option available to unlock the menu so you can see it, with a donation of $15 for the organization. Volunteers served the meals and the gratuity donated to this cause. Rod Bazinet and company donated their time towards the entertainment and local artist Monique Legault hosted a silent auction for a beautiful painting that she made specifically to benefit this charity. The seating time was three hours (plus a cocktail hour). There were six courses.
Q: What is your favorite local product and how do you use it?
Well, I must say, Zaher's hummus. It's incredibly versatile and an excellent local product. Check out @ZahersSmallBatch on Instagram for ideas on what to make with it.
Q: If there is one important piece of advice that you have for home cooks, what might it be?
A: Go for it. Challenge your 'impossible.' Vision it, taste everything, research and take risks. That's how you learn and get good. Also, if you have the time to watch TV, try watching some culinary shows instead on YouTube. Learn where your food comes from, how to prepare it different ways and check out some new foods that you want to try. For those with more advanced techniques, try signing up for an online master class. There's a lot of amazing content out there, so much to learn and discover.
Nickel and Dining is a regular feature in The Sudbury Star. If you want to feature your restaurant, eatery, or bakery, send an email to dmacdonald@postmedia.com.
sud.editorial@sunmedia.ca
Twitter: @SudburyStar